Human-altered landscapes: visions of the Anthropocene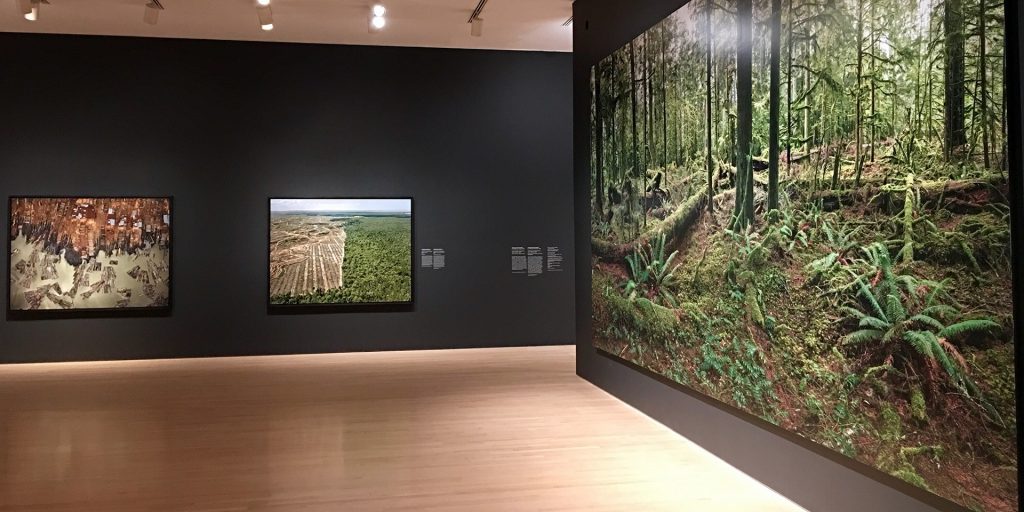 By Zoë Ducklow | National Gallery of Canada Magazine
It was two years ago, while hovering over the Niger Delta in a two-dollar-per-second rented helicopter that Edward Burtynsky saw an oil-soaked scene of apocalyptic scale. Images of oily waterways flicker in dull rainbow hues; landscapes shine black and are littered with scorched trees; a boat speeds away from the helicopter. He had heard about oil theft in the petroleum-rich Nigerian delta, but looking at it from this vantage point, he knew it was something the world hadn't yet seen.
"They are really tough images. They speak to a very challenging situation," Burtynsky says. Nigeria has substantial petroleum deposits, with oil and gas pipelines dissecting the delta. Locals siphon oil from pipelines and crudely distill diesel and gasoline – profitable, marketable products. But over half of the crude oil needs sophisticated refining to be turned into anything useful. "They didn't have a refinery. They couldn't do anything with it. So they just poured it off on the landscape," Burtynsky observes. It is unclear how much oil gets siphoned off, but the Nigerian government estimates 250,000 barrels daily, over half of which gets dumped. "These landscapes have oil just oozing out of them."
The images Burtynsky made that day are one story in The Anthropocene Project, the third collaboration between Burtynsky and documentary filmmakers Jennifer Baichwal and Nicholas de Pencier. (The two previous collaborations were the highly acclaimed Manufactured Landscapes and Watermark.) The project forms the basis of the National Gallery of Canada's multimedia exhibition Anthropocene, which brings together large-scale photographs, twelve film installations and integrated video displays, high-resolution murals and immersive Augmented Reality (AR) sculptures. A simultaneous, complementary exhibition is being held at the Art Gallery of Ontario and another showing will take place at the Fondazione MAST in Bologna next year, all being accompanied by a publication and TIFF 2018 premiere screenings of the film Anthropocene: The Human Epoch.
Read the full article here.